LEGACY | CULTIVATION | PASSION
Grgich Hills Team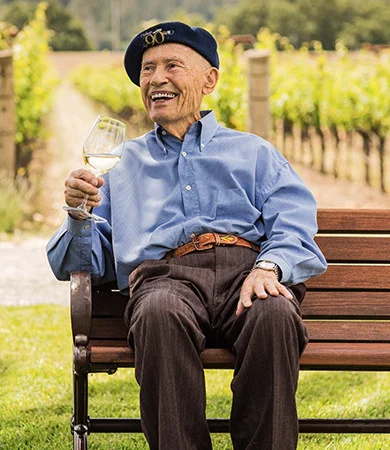 Miljenko "Mike" Grgich
Founder and Winemaker Emeritus | Vintners Hall of Fame Inductee | James Beard Award Winner
Vintners Hall of Fame inductee Miljenko "Mike" Grgich first earned world-wide recognition when the Chardonnay he crafted won the 1976 Paris Tasting, beating the best of France. This tasting helped shatter the myth that only French soil could produce the world's greatest wines and drawing international attention to Napa Valley wines. Mike then partnered with Austin Hills to open their family-owned-and-operated winery in 1977.
Today, his famous beret, the suit case he carried to America and a bottle of his 1973 Chardonnay that won the Paris Tasting are on display in the Smithsonian National Museum of American History. In addition, a Croatian TV documentary about his life, "Like the Old Vine," won the Grand Jury's Special Award from France's Oenovideo Film Festival.
Discover how Mike achieved his "American Dream," traveling from his remote village in Croatia to becoming a celebrated winemaker in the Napa Valley.
Violet Grgich
President
Violet's passion for wine began at an early age, as she literally grew up accompanying her father, Vintners Hall of Fame inductee Miljenko "Mike" Grgich, in the vineyards and cellar. She spent her summers at the winery, doing everything from bottling line work to laboratory analysis and working in the tasting room.
Attending the University of California, Davis, Violet earned a BA in music while taking classes in biology, chemistry, and enology. After graduation, she returned home to Grgich Hills to continue her education in the wine business, learning about daily operations of the winery from her father, Miljenko "Mike" Grgich. She received her Master of Music in harpsichord at Indiana University, and then joined the winery fulltime in 1988. She's now responsible for daily management of the winery, as well as sales and marketing. She says that she has the ideal job: "I believe that wine is part of a healthy, happy and long life. Wine brings people together and makes them happy, which makes my job extraordinarily fulfilling."
Involved with every aspect of the wine business, Violet enjoys wearing many different hats, often at the same time. She explains, "My dad insisted that in order to lead the winery I needed to work at every single position, starting at the bottom." Violet continues to enjoy learning something new each day and following her grandfather's and father's philosophy of "Every day do something just a little better."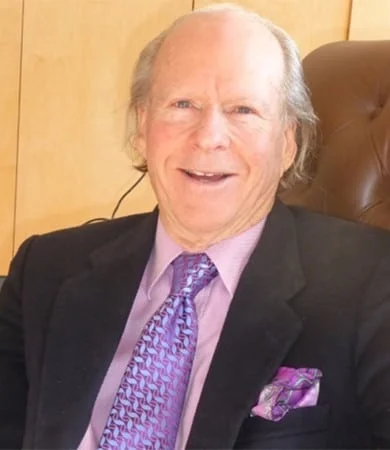 Austin E. Hills
Co-founder, Grgich Hills Estate
Growing up as a member of the Hills Bros. Coffee company family, Austin's future seemed destined for coffee beans, not wine grapes. His grandfather and grand uncle began their family business in 1878 in San Francisco. Austin acquired a strong business background, receiving his B.A. degree from Stanford University and his M.B.A. from Columbia University, before he began working at Hills Bros. Coffee, Inc. as an assistant coffee buyer. He worked his way up to Vice President and finally Chairman of the Board.
In 1975, Austin founded Hills Vineyards and developed his own label. After the Judgement of Paris in 1976, Austin came to Mike Grgich with a proposal: he had broad business experience and money to invest, since he and his sister, Mary Lee Strebl, had just sold the coffee company. Austin wanted to produce world-class wines and he was looking for a winemaker to do that. Mike had extensive winemaking and management experience and now he had the reputation as the American winemaker who beat the French.
The two men were a perfect match for success so Mike joined forces with Austin and Mary Lee in a partnership in 1977. Wanting to show the family foundations of Grgich Hills, the partners share equal billing on the label and in the lower right and left hand corners of the label through the depiction of the checkerboard crest of Croatia, Mike's homeland, and the rearing horse of the Hills' family crest.
Today, Austin is Chairman of the Board of Grgich Hills Estate. Besides his involvement with wine, Austin is president of Hills Vineyard, which grows and distributes Dos Colinas olive oil. He is also an active member of San Francisco society, serving on a wide variety of boards that demonstrate his eclectic range of interests, including Hills Capital Management, Asian Art Museum, and The Leakey Foundation. The next generation of the Hills family has also found a home in grapes, rather than coffee beans: Austin's youngest son, Justin, has gained experience in the vineyards and now is in sales in the Grgich Hills' tasting room.
Ivo Jeramaz
Winemaker | Vice President of Vineyards & Production
Ivo was born in Croatia to a family of grape growers and as boy he assisted in making wine for his family's enjoyment. However, he didn't plan on becoming a winemaker. Ivo earned a master's of science degree in engineering from the University of Zagreb and dreamed of coming to California to work as an engineer.
In 1986, with the help of his uncle, Miljenko "Mike" Grgich, Ivo followed his dream and came to Napa Valley. He quickly fell in love with the scenic beauty of the area and became fascinated with wine making. Ivo decided on a career change and Mike immediately put him to work washing barrels. During his almost-three decades at Grgich Hills Ivo has worked his way up in responsibility, learning the classic style and art of winemaking from his uncle, supported by the tools of science and technology. "There's nothing in the winery or vineyard that I haven't done, not just for one day, but really worked at it," he explains.
While he has taken enology and viticulture courses at University of California, Davis, Ivo says, "I've learned more working in the vineyards and in the winery with Mike." Under the guidance of his uncle, Ivo is now responsible for the day-to-day operations in the cellar and the vineyard, including naturally farming Grgich Hills' 366 acres without artificial fertilizers, pesticides or herbicides.
"At Grgich Hills, we grow grapes like my grandfather did, farming without chemicals and pesticides," Ivo says. "Mike taught me early in my career that you need great grapes to make great wine. Over the years, I've focused on working with the land. Through our natural farming, it's been very rewarding to seeing the soil alive with healthier plants than under conventional farming. It allows the wines to be more authentic—more distinctive."
The Next Generation…
Grgich Hills Estate is deeply rooted in family. The winery was founded by two families, Grgich and Hills,  joined together in the pursuit of creating the best wines in the world. Today, Mike's daughter, Violet Grgich, is President and Ivo Jeramaz, Mike's nephew, is Winemaker/VP of Vineyards & Production.  Now we welcome a third generation to the winery –  Maja and Justin!
Justin Hills
Justin, the youngest son of Austin Hills, has gained invaluable experience working diverse positions within the winery, including Vineyard Assistant and Sales Trade Ambassador. Most recently, Justin joined the cellar team to work the 2017 Harvest where he learned firsthand what goes into making wine after the grapes are picked and brought to the winery. The multitude of experiences that Justin has gained throughout the years, from vineyard to winemaking and sales, have provided him invaluable knowledge of Grgich Hills and prepared him to be a great Ambassador for the winery.
Maja Jeramaz
Maja, Ivo's oldest daughter, joined Grgich Hills after graduating from University of California, Santa Cruz in 2015. Following graduation she joined the tasting room sales team, and after quickly developing a reputation for her in-depth knowledge and engaging tours at the winery she worked as a Lead Sales Associate. Maja recently transitioned into Export as the Export Sales Ambassador and has excelled at selling wine to England, Japan, Korea and Canada. Maja says the best part of working at Grgich Hills is learning from her Dad and Violet and continuing the family legacy.